Vikings! There is just a little over one week left to conquer the Epcot International Food & Wine Festival, ending on November 13, 2017. Don't miss your chance to savor Einstök White Ale on draft at the Akershus Royal Banquet Hall located at the Norway Pavilion, between the China and Mexico Pavilions.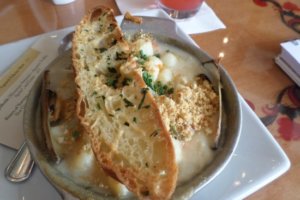 The clean and crisp yet complex flavors of our classic witbier brewed with orange peel and coriander, pair well with Skalldyrsgryte, an authentic Viking dish that you will find on the menu. It's a real mouthful of historic proportions and a delectable baked seafood casserole featuring succulent scallops, mussels, and shrimp in a rich herb-cream sauce. You may also choose to try the traditional Kjottkake, meatballs served with mashed potatoes, seasonal vegetables, and Lingonberry sauce. And don't forget dessert or a second Einstök White Ale to wash it all down.
If you crave a culinary adventure and great beer, make the voyage over to Epcot, so you can eat and drink some of the finest Nordic fare in the World. Disney World that is. Skál!