Summer has officially arrived, and it's sweltering hot. What better way to relax and stay cool than with a frosty cold delicious brew crafted from the crystal clear ancient glacial waters of Iceland? Sure you could probably jump in an actual frozen blue Icelandic lake or frolic on a passing iceberg in your skivvies with a random polar bear, but if you're a fan of craft beer and live nowhere near the North Pole, we have a few beersfor your summer adventures. Esquire Magazine even included us here in their perfect cooler roundup!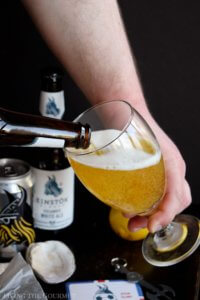 Not to mention, Hype Magazine named our small-batch seasonal, Arctic Berry Ale as one of their Top 10 recommended items to get ready for summer. Brewed with Icelandic bilberries, which are hand-picked about 40 miles south of the actual Arctic Circle, this ale carries a hint of sweetness beyond its pleasant berry aroma. It features a dense golden coloration with a tall white head. The berry aromatics hit instantly, as one might expect, but they're tempered by just a little hint of tartness. On tasting, crisp berry notes are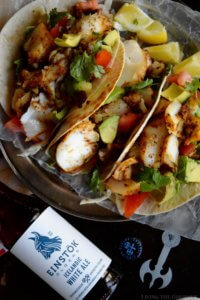 immediate, carried on a pleasantly smooth body. This Viking-born adult beverage pairs scrumptiously with grilled fish, Icelandic puffins ,other poultry, and of course with the usual grilled grub we all love.
Another brew sure to conquer your taste buds this summer is our Icelandic White Ale. "This ale features a light golden body topped by a copious white head. The aromatics are very muted, but when they do appear they range from fruity to citrusy, and are a fair bit sweet, featuring hints of syrup framed in vague notes of toasted orange peel. On the palate, the ale is quite smooth, the word 'mellow' comes to mind, with the aromatics largely carrying over to create an excellent year-round, versatile beer."
Skál to our mates at LivingTheGourmet.com for this fantastic review, also featuring a mouthwatering recipe for blackened cod fish tacos that pair perfectly with our brews. Einstök White Ale is a 'go to' or 'anytime' type beer that pairs perfectly with anything BBQed on a balmy summer afternoon. Whether you're grillin' or just chillin' by the beach, by the pool, on a boat, or wherever the summer may take you, Arctic Berry Ale and White Ale are sure to complement your cuisine. Skál!
Find Einstök White Ale and Arctic Berry Ale near you by entering your location at einstokbeer.com/ale-locator