Icelandic Arctic Berry Ale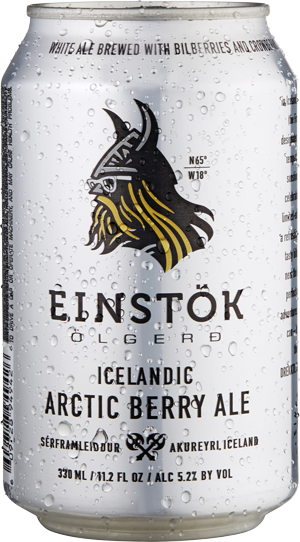 In Iceland, Sumardagurinn fyrsti means the arrival of warmer temperatures. At Einstök, we celebrate with this limited-edition Ale, a refreshing witbier flavored with tasty bilberries, hand-picked near the Arctic Circle. It's the perfect ale for your summer adventures, but enjoy it while you can – it will disappear with the midnight sun.
Wheat malt, pilsner malt, oats, bavarian noble hops. Subtle flavor from bilberries, hand-picked near the arctic circle.
ABV: 5.2%
Tasting notes:
An alluring, fruity nose makes the subtlety of the berry flavor surprising, leading to a summer brew that perfectly balances the bilberries for a flavorful, but not too sweet, crisp and clean finish.
Food pairings:
Warm weather fare, cookouts, fish and poultry, sushi, spicy food, asian food, latin food, greek food, citrus salads and desserts.